All Your Questions Answered… Plus An Affordable Alternative To Credit Card Readers
Being able to take customer payments by card, no matter where you are, is essential.
Without a portable credit card swiper on hand, you stand to lose out on business from those who prefer payment by card over using cash.
If you're yet to venture into acquiring a mobile credit card swipe machine, now is the time to prioritize finding a solution to this problem.
This is particularly important given that cards are quickly superseding cash as the preferred payment method in most developed nations.
When considering your options for a small business credit card reader, you'll likely have numerous questions…
How exactly do they work?
Which machine is the right fit for you?
Are there any better alternatives available?
By the end of this article, we're confident you'll have all the answers you need and more to make an informed decision regarding which is the best credit card and/or best debit card reader for small business.
So let's get started!
---
What Is A Credit Card Reader?
A credit card reader is a machine that captures payment information from a customer's credit or debit card.
They are physical machines that can also be known as payment terminals, EFTPOS terminals, or point-of-sale (POS) terminals.
There are credit card machines, portable and fixed as well as readers that can be plugged into or connected to smartphones or tablets.
Both fixed and mobile credit card payment systems can vary greatly in appearance.
While early card reading hardware was bulky, large, and covered in buttons much like a phone or calculator, newer versions can be as simple as a credit card cube for iPhone with no buttons or openings at all.
---
How Do Credit Card Readers Work?
Debit/credit card readers work by extracting information from the customer's card and transmitting this to a payment processor which then collects the necessary information from the customer's bank.
If there are funds available for payment, the payment will be approved and processed.
The machine reads this information in one of three ways:
1) A magstripe machine or credit card swipe reader, collects customer data from the magnetic strip on the rear of the card.
In this method, the card is swiped through a tethered or ​​portable card swipe machine to access the information.
Magstripe cards are less secure than chip cards. For this reason, we advise against using credit card swipe for small business. A breach of customer data is particularly damaging to a small business's reputation.
2) EMV card readers read the information contained within a chip on the front of a customer card. These cards can be inserted or dipped rather than swiped.
These readers can look like a traditional POS terminal or be a specially made credit card machine for Android or iPhone.
3) Contactless payment or Near-field Communication (NFC) devices require zero physical contact with the customer's card.
This has led to it being considered one of the better options and is usually preferred as the best phone card reader.
This only works with cards that have more advanced chips known as RFID chips. These enable payments to be processed by simply waving the card in front of the credit card reader.
You may have seen these as a POS terminal, credit card cube for Android or iPhone, or a flat disk. The latter two are attached to a phone through Bluetooth or an external cable.
Credit Card Readers And Computers
Infrequently you may see credit card readers for computers, however, credit card readers do not have to be linked to a computer to work.
EFTPOS machines do work well alongside computers and business software and often form part of a larger, interconnected POS system.
---
Pros And Cons Of Credit Card Readers
Determining which is the best credit card swiper for small business or whether it suits your needs means a careful review of the pros and cons associated with them.
On the face of it, it may seem that the pros would easily outweigh any cons.
How can you go wrong with being able to make more sales via a pay-anywhere card reader, right?
Well, while that may ring true, it is still important to understand the potential downsides linked with a credit card reader for small business.
Pros:
They make it easier to accept payments from customers who prefer cards over cash.
Wireless credit card machines for small business can be a great option for those who do not work from a fixed location such as tradespeople or those with a portable market stall.
They offer a secure and safe way to receive credit and debit card payments.
Versatile card readers exist such as a credit card swiper for iPad, Android, or iPhone so it is easier to set up a card facility than it used to be.
Not only for credit cards, but most card readers also accept debit cards. So you'll not face any issues finding a debit card reader for Android or iPhone. They're one and the same as far as credit vs debit is concerned.
Cons:
They require constant charging or have to be plugged in.
There is a potential for software malfunctions in credit card readers for iPhone and Android that render the reading hardware unusable.
Connectivity issues. This particularly affects those that rely on an attached mobile credit card scanner to function and can create delays or the inability to process payments.
There are often expensive monthly fees to pay for the use of the hardware, these fees are on top of merchant and translation fees. Obtaining a ​​free card swipe machine can be next to impossible!
Other fees may also be leveraged such as software update fees, annual fees, termination fees, and more.
Not convinced that a card reader or credit card scanner for phone is for you?
Let's delve a little deeper and find the right fit for you.
---
How Do Different Types Of Credit Card Readers Process Payments?
---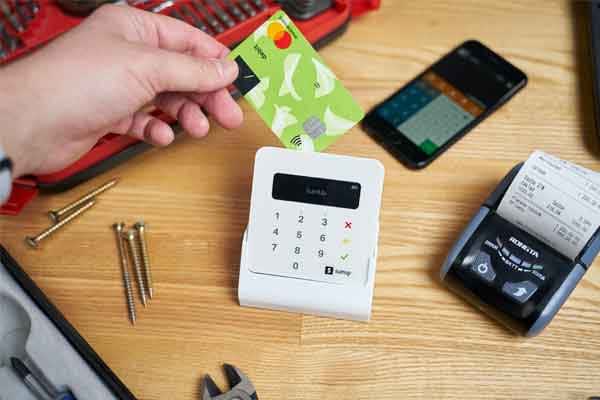 ---
While we briefly covered the types of credit card readers above, let's take a look at real situations where you might see these in action.
This can help to better understand how they work.
Markets
A portable credit card scanner that can collect information via swiping or dipping is a common sight on market stall countertops.
The stall owner will manually type in an amount to be charged and request the cardholder to either swipe, dip or possibly tap their card against the mobile credit card reader for iPhone or Android to instigate and finalize payment.
In these types of locations, you may also see a ​​credit card cube for phone or other hardware linked to a smart device that works much the same as traditional hardware.
Job Sites
Whether at a residential home or a large-scale construction site, credit card swipe phone hardware can make it easy to get paid as a contractor/tradesperson.
A phone credit card swiper is a piece of hardware connected to your phone either through Bluetooth or a physical cable that allows you to process payments on the spot.
Paired with an app through which payment information is entered, the customer finalizes the payment by tapping or swiping their card on the linked device.
These credit card attachments for iPhones and Android devices may be linked via Bluetooth or an actual cable.
Fixed Storefronts
Most often a fixed POS system interlinked with a computer, card readers in fixed storefronts capture customer information in much the same way as other card readers.
These swipe card readers are usually able to operate as magstripe, EMV, or contactless forms of payment and as a result, are more expensive and larger than other options.
In an EFTPOS system, these readers also communicate with other accounting or other software to make tracking inventory, ordering, and other tasks simpler.
Currently, the majority of POS systems are less portable as they do not offer flexible alternatives such as a credit card adapter for phones.
Cafes
Increasingly common in cafes, iPad credit card reader hardware is used as a simpler way of ordering and accepting payments.
Servers can use the iPad to take your order, send this information directly to the kitchen, and then accept payment all via the same central device.
An external card swiper for iPad is usually required and communicates with an app on the device to transmit billing information to the swiper.
Customers can then present their card to complete payment.
---
How Do Merchant Accounts Work And Which Is Best?
---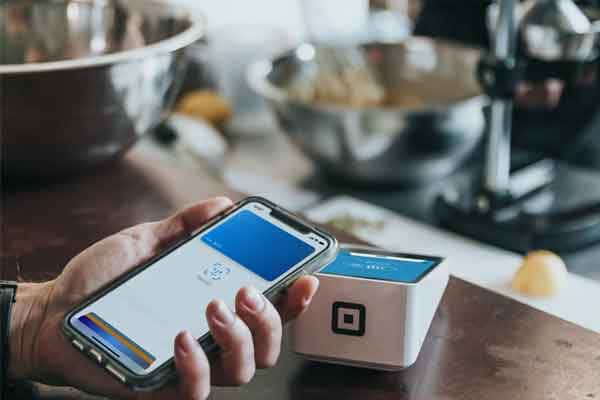 ---
Any POS system or credit/ debit card reader for iPhone requires using a merchant account to process payments.
Yes, this also applies to a card swiper for Android or those with a PayPal Business account.
No matter how you plan to take a payment, you need a merchant account set up.
How They Work
A merchant account is a type of business transaction account. A merchant account is specially set up to accept payments from credit and debit cards.
It doesn't matter whether the payment is initiated via a card swipe machine for iPhone or Android or a traditional POS terminal.
A merchant account is not a bank account as such, instead acting more as an in-between space or middleman between a client's bank account and your own.
In this in-between space, payment requests from a smartphone credit card swiper for POS systems are reviewed and checks are performed to make sure the customer has the available funds to finalize payment.
If funds are available, the merchant account takes payment from the customer's card and forwards it to your nominated bank account.
Whether you are performing mobile merchant credit card processing or processing from a fixed location, the way in which a merchant account acts remains the same.
Who To Choose
How do you know which merchant account service provider to choose? Does it simply come down to who has the best fee structure and best card readers?
In short, no…
Aside from reviewing the costs involved with each provider in detail, you need to first look at your own needs and evaluate them carefully.
Firstly, take note of your sales volume and the average number of transactions you process in a month.
Be sure your chosen provider does not levy a monthly minimum or maximum transaction amount.
Secondly, check what the technology requirements are for using their service.
Can you use credit card reader apps?
If you are required to purchase their nominated ​​handheld credit card swiper you'll need to factor this cost in too.
Having to purchase several merchant card readers upfront can get expensive if you have many staff to provide for.
Thirdly, always carefully review the terms and conditions of any merchant service.
The last thing any business needs is to be stuck in a costly contract for a service that doesn't work for them.
This again includes checking for any financial obligations linked with a debit/credit card reader for Android or iPhone that they require you to use.
Our top three picks (backed by Forbes Advisor too) are favored due to their competitive fees and security assurances among other great features…
Do you have multiple registered businesses and need to be able to process payments all from one merchant account?
If so, Stripe could be the perfect fit.
Stripe allows for ultimate flexibility with the added bonus of competitive transaction fees.
To further help you save, there are no monthly or annual fees levied by Stripe.
Thanks to some great third-party apps there is no need for hardware such as a credit card scanner for Android or iPhone – you can manage everything, including taking payments, through your existing smartphone.
Delivering reliable 24/7 support and continual attention to security, it is easy to understand why Stripe is a preferred merchant account for big and small businesses worldwide.
Fees: There are zero setup fees, monthly fees, or annual fees to be paid. In the case of a chargeback, there is a $15 fee which is levied. However, this is refunded via Stripe's chargeback protection should you as the merchant win the chargeback dispute.
Transaction fees: 2.9% plus $0.30 per successful charge
Accepted payment methods: credit/debit cards (Visa, MasterCard, Discover, American Express, JCB), mobile wallets, in-app mobile payments, subscription billing, and bank transfers.
Pros:
Low-cost and flexible, Stripe has zero monthly fees and no fixed contracts to sign
24/7 support is available both via an easy-to-access online chat service or by phone if preferred
No need to purchase any hardware to get started such as new credit card readers, can all be done through an app on your phone.
Chargeback protection – this is especially helpful for small businesses that can ill-afford losses.
Supports Automated Clearing House (ACH) and online payments
There are several integrated third-party credit card reader apps for iPhone and Android that allow you to process payments with ease.
Cons:
Initial set-up and familiarization with Stripe can be a bit overwhelming for those unfamiliar with merchant account services
Cannot accept offline payments currently
Initial payout can take up to 7 days to process
Works best with their own hardware which is purchased directly. The added cost of a portable credit card reader for small business is a deterrent for some.
---
Another leading choice for small businesses, Square has an exceedingly user-friendly platform with little to no learning curve involved.
Able to be operated via a mobile credit card swiper for phone (purchased through Square) or via an integrated app, Square is quick to set up and delivers fast payments.
Square charges no monthly or annual fees on their entry-level merchant account servicing.
Should you need additional features or plan to grow your business, however, you may find their upgraded service models a little pricey.
This also goes for businesses that need multiple credit card readers for phones as the cost of the hardware can quickly add up.
Fees: No startup fees, monthly fees, or chargeback fees.
Transaction fees: In-person credit card processing fees are 2.6% plus $0.10 per transaction and for online credit card transactions: 2.9% plus $0.30 per transaction
Accepted payment methods: As a leading Android and iPhone visa card reader option, Square also accepts Mastercard, American Express, Diners among other credit/debit cards and mobile wallets for added convenience.
Pros:
No monthly fees, however, this is only on their entry-level merchant services
Very user-friendly for those with little to no tech savvy.
No chargeback fees are levied to the merchant
Their hardware can be used as a debit and credit card reader for Android phone and iPhones.
iPad credit card readers are also available with Square
Cons:
Users can face difficulties growing their business unless they are okay with upgrading to a higher tier of service at a significantly higher cost.
Offers limited customer service hours. Support is only available between 9-5 Monday through Friday making it less than ideal for small businesses that see more business on weekends or evenings.
Their hardware such as a credit card adapter for iPhone or Android devices can be fiddly to set up and adds to set-up costs
---
While not always considered as a top choice due to having monthly fees, Stax does work better for businesses who have a high volume of transactions.
Operating off a flat rate fee model, Stax bills a monthly fee but does away with individual transaction fees from POS systems and phone card readers as a result.
You simply select the pricing tier and associated features that best meet your needs.
Fees: $99 for their basic growth package, $159 for their pro package, and $199 per month for the ultimate package.
Transaction fees: Every transaction (even those processed via a card reader for mobile) is covered under your monthly subscription fee.
Accepted payment methods: All major credit/debit cards and mobile payment methods such as mobile wallets or in-app payments.
Pros:
Their smartphone card readers are capable of handling a large volume of transactions as well as high-value transactions
Is able to integrate with leading accounting and invoicing software for easy reconciliations
One easy fixed-fee monthly rather than fees on every transaction processed via any business card readers
Good access to customer support via phone, online chat, and email
Can integrate with your existing POS system
Their hardware can operate as both iPhone and ​​Android credit card readers
Stax app is available for Android and iPhone users with versions for tablets also. This enables the use of credit card readers for tablets as needed.
Cons:
Not a cost-effective option for businesses with low monthly transaction volumes.
Most users report a complicated and confusing subscription service. In addition to the monthly fee, there are also multiple paid add-on services.
Stax is not considered to be beginner-friendly due to its advanced features.
No free credit card reader for Android phones or iPhones despite the higher monthly costs. All hardware is at an additional charge.
---
What Security Do Bank Card Readers Use?
---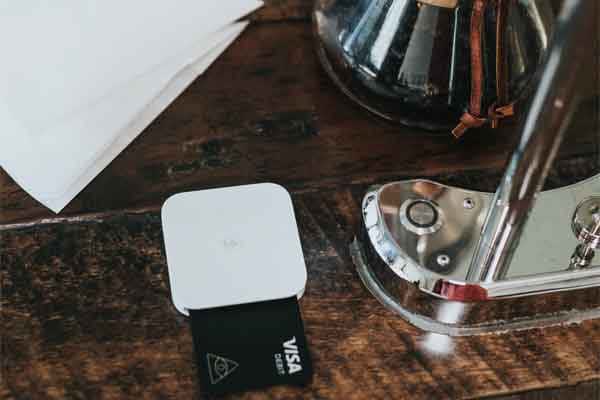 ---
Regardless of any other offerings, the best credit card phone reader is one that can guarantee the security of both your customers and your sensitive personal data.
Bank card readers that require a user to dip or tap their card all employ the same EMV security protections.
Both fixed and mobile EMV card readers use a special authentication process to unlock customer information stored in their cards.
This makes it harder for a customer's card information to be stolen.
Swiping cards such as with a magstripe reader for Android or iPhone is considered much less secure.
This is why most credit and debit cards now operate via an EMV chip.
However, despite this, POS systems and other mobile card readers for small businesses can still be susceptible to security problems.
Much of the security linked with a card reader goes back to your choice of a merchant service provider.
A merchant service provider should have several security measures in place for protecting both POS and mobile card payment systems.
This includes taking active steps to screen for and prevent cybercrime and offering a Payment Card Industry Data Security Standard (PCI) compliant system.
---
Card Readers Vs Mobile Payment Apps
Before you sign up for a credit card reader for your phone, there's another avenue to consider.
One of the simplest and cheapest ways to process card payments on the go as a small business owner is via the use of a credit card reader app for Android or iPhone.
Different from a card swiper app that works in partnership with an external device to capture payment information, an app is an all-in-one innovation.
When we say mobile, we don't mean a mobile credit card reader for Android or iPhone. We mean your actual mobile phone becomes the payment terminal.
We outlined the pros and cons of small business credit card swipe machines above, now let's compare the pros and cons of a mobile app against physical terminals.
---
| | | |
| --- | --- | --- |
| | POS Or Phone Card Reader | Mobile Payment Apps |
| Portable | Not always | Yes |
| Specific hardware required | Yes | No |
| Low transaction fees | Not always | Yes – just 1% on top of Stripe's fees when processed via the Charge app |
| Monthly or annual fees | Yes | No |
| Prone to software issues | Yes | No |
| User friendly | Not always | Yes |
| Free | No | Usually yes |
| Accepts most card types | Yes | Yes |
| Easily updated for security | Not always | Yes |
---
These are just a few of the great benefits you can access by opting for a payment app over a traditional terminal or ​​cell phone credit card scanner.
While a credit card swiper for cell phones was a great innovation when initially introduced, the fact is that simpler, less expensive options now exist via intelligent payment apps.
One side note, if you're specifically seeking to use an iPad to accept payments, iPad card readers can be easier to come by than an app that supports payment processing.
The same can be said for sourcing a credit card reader for Android tablets.
However, new developments are always happening so being able to do away with iPad credit card scanners too is definitely on the horizon.
Credit card readers for laptops are even less common and harder to set up and use, so we'd advise avoiding that as a payment processing option altogether.
---
Take Charge With The Charge Mobile Payment App
---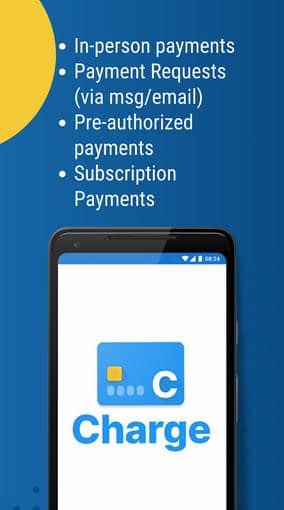 So which is the best portable card machine?
Well, we'd argue it's the one you already own, but don't realize!
With the free Charge mobile app, your smartphone can instantly become a type of card machine capable of processing payments on the spot.
The best mobile credit card machine for small business is indeed your very own smartphone.
Simply set up a merchant account with Stripe and download the free Charge card swiper app.
You need no additional hardware and can begin accepting payments sooner than you think.
Charge offers…
Cost: Charge is free to download from Google Play or the Apple App Store. There are no associated subscription fees, set-up costs, or minimum usage requirements.
Fees: Charge bills a 1% fee in addition to Stripes fees. Compared to many other apps which charge a larger percentage with lesser functionality, we feel this is a cost-effective, convenient solution.
Accepted payment methods: U.S. businesses can accept Visa, MasterCard, American Express, JCB, Discover, Diners Club, and China UnionPay.
Businesses all over the globe can accept Visa, MasterCard, and American Express through the Charge app.
To find out which specific payment methods are available in your country, simply visit Stripe's Payment Options page and select your country for more details.
Plus:
Zero hardware costs and no external hardware such as a mobile debit card machine is needed.
A quick and simple way to turn your Android phone or ​​iPhone into a CC reader for the ability to accept payments anytime, anywhere.
---
FAQs
Does any card reader work with any bank?
Whether your POS card reader, smartphone, or tablet credit card reader will work with a specific bank actually comes down to the merchant service provider you have selected.
It is the merchant service provider who navigates the payment between your card reader and the bank.
Always check which payment methods they accept and be sure it works for your needs and your customers.
How do card readers communicate?
Whether you're using a credit card swiper for Android or iPhone, a fixed POS terminal, or a contactless card reader, how they communicate is the same.
No matter how the card is presented, the specified reader and the chip in the card communicate via an encrypted language.
During this exchange, a unique, one-off code is created for the requested transaction which is then sent to merchant services via a secure internet connection for processing and finalizing.
Is a contactless card reader better than a cell phone card swiper?
While many customers will not be bothered by your choice to use a credit card slider for phone over a contactless method, as discussed above, swiping a card is considered less secure than other methods.
An EFTPOS terminal swipe or smartphone credit card swiper processes transactions by collecting data stored in the magnetic strip on the rear of the card.
Whereas contactless unlocks this information from the card's encrypted RFID chip.
Chip cards and chip payments are the better options for protecting your customers which makes contactless a better choice over a swipe card reader for iPhone or Android.
How does a contactless card reader work?
Contactless iPhone or Android credit card processing operates via special technology known as Near-Field Communication or NFC.
Able to work over very short distances an NFC-enabled device sends radio waves to activate a connection with a receiving device.
In the case of a contactless credit card terminal for iPhone or Android, these radio waves capture card information stored in an RFID chip on the front of the nominated debit or credit card and use this to process payment.
Is a debit card swiper for phone the same as a credit card swiper?
Yes. When it comes to selecting an option for collecting customer card information, this isn't something you need to be worried about.
A debit POS terminal or cell phone debit card reader is the same as a credit card reader.
Virtually all card readers whether swipers, dippers, or contactless are configured to accept both debit and credit cards.
Do card readers need WIFI?
While a WIFI connection usually offers better speed and stability, it is possible to operate a card reader such as a debit card machine for phone via a mobile internet connection without issue.
However, all card readers, including mains-powered POS terminals, portable card readers for iPhone and Android, and contactless readers need some form of internet connection to be able to process payments.
Without an internet connection, smartphone credit card scanners or EFTPOS machines are unable to communicate with the merchant service provider.
---
Wrapping Up
Prefer to skip the need for a separate credit card device for phone?
Feel it's all too complicated?
The good news is you do not need to miss out on valuable business from card payments.
With the Charge App and Stripe as your merchant, you'll never need to fuss around with a portable debit card reader again.
All you need is your trusty smartphone with our app installed and you're all set.
Portable credit card processing has never been safer, more secure, or simple!
With over $115 million in payments processed since its launch in 2018, we're confident you'll love Charge as much as our existing users do!
Experience a better way of processing payments, get started with Charge today…