Credit Card Processing For Construction Industry Contractors To Get Paid On-The-Spot (Easy, Affordable Solutions)
Getting paid sooner for small jobs or even larger projects is easy with the right contractor credit card processing app.
It's quick, it's easy and it means no more chasing up unpaid invoices or worse, not being paid at all.
Chasing invoices is undoubtedly one of the worst aspects of contracting.
You deserve to be paid for your hard work as soon as you finish the job, whether at your client's home, on a building site, or at larger commercial construction sites.
Most people don't carry cash these days so it's smart business to have a reliable alternative rather than just sending an invoice and 'hoping' it's paid.
And let's face it, the easier it is for clients to pay you, the better!
Credit card processing for contractors is as simple as having a reliable App on your phone to take credit cards on the spot.
And let's not forget the tax man who encourages consumers to pay by card so that construction industry workers have greater transparency about their income.
The good ol' days of taking cash payments and keeping it quiet from Uncle Sam are long gone, so at least with the new world of digital payments, you're more likely to get paid because you can take payments on the spot.
We're all fans of convenience, right?
However, as with most things, there are pros and cons to everything 🙂
In this guide, we're going to outline everything you need to know about setting yourself up to accept credit cards on your phone if you're a contractor in the construction industry…
The top merchant accounts for contractors
How to choose a construction credit card processor
The top mobile credit card processing apps for contractors
FAQs to answer any questions you may have
Let's get into it…
Who Do We Class As Construction Industry Contractors?
Seeking information on the best e-commerce merchant accounts?
Then you might want to jump on over to our companion article detailing mobile payment solutions for online businesses.
This no-nonsense guide is for anyone contracted to work in the construction industry including but not limited to:
Plumbers/Plumbing contractors
Carpenters/Carpenter Contractors
Plasterers/Plastering Contractors
Electricians/Electrician Contractors
Floorers/Flooring Contractors
Glaziers/Glassing Contractors
Tilers/Tiling Contractors
Home Building Contractors
Concreters/Concrete Contractors
Pool workers/Pool Construction Contractors
Roofers/Roofing Contractors
Painters/Pain Contractors
Renovators/Rehabbers
General construction workers and more
If you class yourself as a construction industry contractor then this article is here to help blue-collar workers such as yourself to collect payments quickly and easily through your smartphone.
What Are The Best Merchant Accounts For Contractors?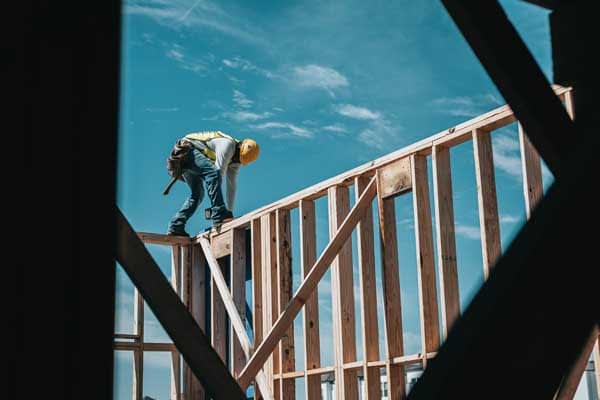 With so many merchant accounts out there, how do you know which one is best suited to your needs?
Can't you just use an old PayPal Business account?
Unfortunately, not all merchant accounts are suited to construction industry transactions.
So while you may be familiar with merchant services such as PayPal, they're unable to deliver the unique features you will require within your industry.
Our top three picks (and Forbes Advisor's favorites) for the leading merchant accounts for contractors that offer optimal flexibility and a host of great features are as follows:
Stripe
Stripe is ideal for contractors who may be running operations under multiple registered businesses as you can manage all transactions from one merchant account.
With a focus on payment flexibility and not charging excessive fees, Stripe and its partnered Charge app (formerly Charge for stripe) ensure you can accept card payments without issue or delay right from your smartphone.
With no monthly or annual fees and 24/7 support available, it is easy to see why Stripe has become a preferred merchant account for contractors worldwide.
Fees: No setup fees, monthly fees, and no annual fees. There is a $15 chargeback fee which is refunded if the merchant wins the chargeback dispute (chargeback protection).
Transaction fees: 2.9% plus $0.30 per successful charge
Accepted payment methods: credit/debit cards (Visa, MasterCard, Discover, American Express, JCB), mobile wallets, in-app mobile payments, subscription billing, and bank transfers.
Pros
Low-cost with zero monthly fees and no contract requirements
24/7 support is available via phone or an online chat service
Chargeback protection – this is vital for independent contractors
Supports ACH, online payments
Taking payments is easy thanks to intelligent integrated third-party apps.
Cons
Initial set-up and familiarization with the account can be a little complex for those new to merchant account services
Doesn't accept offline payments at this stage
Some users experience delays of up to 7 days for their initial payout
Best suited to small businesses, Square offers a basic, uncomplicated payment platform. Purchase a POS system or use the free mobile card reader for fast payment.
Often selected for new businesses that are just getting started, Square charges no monthly or annual fees for use on their base merchant account servicing model. However, if you need the option to scale up as your business grows, Squares flat-rate pricing can become quite costly.
Fees: No startup fees, monthly fees, or chargeback fees.
Transaction fees: In-person credit card processing fees are 2.6% plus $0.10 per transaction and for online credit card transactions: 2.9% plus $0.30 per transaction
Accepted payment methods: All major credit/debit cards and mobile wallets.
Pros
No monthly fee on base merchant services
Not overly technical making it easy for new business owners
No chargeback fees
Cons
Not easily scalable and requires costly add-ons to do so
Regularly noted to have poor customer service, only available between 9-5 Monday through Friday.
While this credit card processing company does charge monthly fees to contractors it can still be a viable option for any independent contractors making a higher volume of transactions.
The flat rate fee model allows users to select from three tiers under Stax's transparent pricing model.
Within each tier, you gain access to a dashboard of varying functionalities and some helpful analytics.
You can also opt for accounting reconciliation, invoicing, website-hosted payment links, and more.
As a fixed fee option, this can help business owners save on paying fees per transaction.
Fees: $99 for their basic growth package, $159 for their pro package, and $199 per month for the ultimate package.
The latter comes with customization options and the ability to customize pricing for businesses transacting over $500,000 annually.
Transaction fees: Covered under your monthly subscription fee.
Accepted payment methods: All major credit/debit cards and mobile payment methods such as mobile wallets or in-app payments.
Pros
Capable of handling large-scale transactions
Can integrate with accounting and invoicing software
One fixed-fee monthly rather than ongoing fixed fees per transaction
Cons
Expensive for small businesses that are handling fewer transactions
Complicated and involved subscription service with multiple add-on services
Not considered user or beginner-friendly due to advanced features
How To Choose a Construction Credit Card Processor
Selecting the right Credit card processor in high-risk industries is essential no matter what line of work you are in.
From plumbers to glaziers, floorers, roofers, bricklayers and more, ensuring you get paid on time, every time is key.
So how do you find the best fit for your construction business?
Here are our top tips for how to choose the best merchant services for contractors:
Be realistic and honest about the sales volume and average sales amounts processed.
This ensures you can select the optimal merchant services for contractors right from the outset.
Be wary of contracts.
While leading contractor credit card processing companies Stripe and Square offer no contract, no commitment services, others will require payment.
Opt for a month-to-month service wherever possible as this low commitment option allows you to switch to a new processing company if needed without termination fees.
Review all fees and charges in detail.
Be sure to note the fee schedule and familiarize yourself with any sign-up costs, membership dues, transaction rates, and fees, and any hardware costs.
For seasonal workers, ensure your choice of processor doesn't levy a monthly minimum requirement within the terms and conditions.
What are the technology requirements?
Will you need a card reader or can you do it all via a mobile app?
Are all smartphones compatible with their software or are they specific to Apple iPhone/iPad or Android phones and tablet devices?
Security and fraud protection.
This cannot be overlooked! Always check what measures your chosen credit card processing services have in place to keep both business and customer transaction data safe.
Select a processor that accepts multiple payment methods.
Including ApplePay or Google Pay as well as all the major credit/debit cards mean customers can pay however they like and allows contractors to accept payments on-site with ease.
Opt for processors that offer level 2 or 3 processing.
If you're a Jack of all trades or small town carpenter, electrician, or painter that only ever deals with small consumer transactions level 1 processing may suit you.
However, if you work on any larger-scale projects wherein corporate cards may be used for payment by another construction business you'll need a higher level.
The reason for this is that if you accept payment from other construction companies at level 1 you'll pay higher credit card processing fees.
Being self-employed, reliable payment processing that keeps your cash flow consistent without overpaying for merchant services is vital to the success of your business.
Always compare multiple providers and choose a payment facilitator that understands credit and debit card processing for contractors.
This will ensure streamlined electronic payments with minimal hiccups.
High Risk Payments
Something many blue-collar businesses do not realize is that laborers and independent contractors are considered high-risk by most payment processors.
Why?
This is largely due to the high invoice amounts, irregular payment spacing, irregular payment amounts, card-not-present transactions, and numerous other industry regulations.
These variations in the dollar amount you process each month and your overall transaction volume each month can cause fraud alerts with inexperienced vendors – causing them to freeze your account.
As many small construction businesses, contractors and laborers do seasonal work or handyman jobs these fluctuations are unavoidable.
This is another reason why your merchant account provider needs to understand and cater to the construction industry and construction industry workers.
A high-risk merchant account provider is the best choice to avoid these pitfalls as they specifically work with high-risk industries like construction.
How Does Credit Card Processing Setup For Independent Contractors Work?
Setting up contractor credit card processing is more straightforward than you may think.
Being able to offer as many payment options as possible from anywhere you are such as at the job site or customer's house is as simple as:
Select the ideal credit card processing company for your business and create your merchant account.
Your merchant account allows you to accept a credit card payment and provides the information needed to get these funds to your nominated account.
Having a merchant account allows you to process ISO/MSP transactions (Visa and Mastercard).
It is especially helpful for any contractors or tradespeople/tradies who transact over $3000 a month in varying transaction amounts.
Obtain your POS device or install your mobile POS app so you can process the transactions on the go.
The best merchant account providers for contractors allow third-party integrations apps that work directly with the device you already have. This means zero delays in getting paid!
Seems too easy, right?
Learning how to accept payments on-site using your phone can be this simple.
This is why mobile credit card processing is a great fit for contractors who may not be tech savvy but still want to speed up collection times and improve the cash flow of their business.
What Are The Best Mobile Credit Card Processing Apps For Contractors?
As credit cards provide consumer protection, more and more clients are using a credit card for construction payments.
Mobile credit card processing apps ensure you are ready to accept payments in various ways, for which consumers will be both impressed and thankful.
If you've ever felt that small construction businesses can't possibly afford or manage mobile credit card processing in the same way large-scale enterprises can, guess again!
In our humble opinion, the best mobile credit card processing app is of course the Charge App.
Empowering small business owners to get paid anywhere, anytime so long as they have mobile data or a WIFI connection, Charge is a game-changer.
Additionally, as one of only a handful of 'Stripe Partners', you know you're in safe hands with Charge.
Easily manage payment processing history, email receipts, review customer data, access total sales tracking information, issue refunds easily, correct any credit card processing mistakes, and more – it can all be done in the Charge app.
Developed for both Android and iOS operating systems, Charge is the integrated mobile payment solution that is set to revolutionize the way you manage your payments.
Whether you are on-site or need to facilitate remote payment for a client via a payment request, the Charge App gives you the flexibility to do both.
With live chat support also available directly within the app, you'll always be able to access support to process payments or troubleshoot issues.
"Our goal at Charge is to ensure you never miss a payment, we're focused on simplicity and streamlined processing anytime, anywhere."
Cost: Charge is free to download from Google Play or the Apple App Store. There are no associated subscription fees, set-up costs, or minimum usage requirements.
Fees: Charge bills a 1% fee in addition to Stripes fees. Compared to many other apps which charge a larger percentage with lesser functionality, we feel this is a cost-effective, convenient solution.
Accepted payment methods: U.S. businesses can accept Visa, MasterCard, American Express, JCB, Discover, Diners Club, and China UnionPay.
Australian, Canadian, European, Hong Kong, and Singaporean businesses can accept Visa, MasterCard, and American Express.
Facile Pay
Also a Stripe Partner, this option will work alongside Stripe in a similar way to Charge but offers less functionality than Charge.
So you won't be able to access any of the easy-to-read data graphs, or chat with customer support as needed that Charge offers.
Perhaps the biggest downside is there is no live support available – a nightmare for anyone experiencing issues with their mobile payment devices.
Cost: FacilePay is free to download from Google Play or the Apple Store.
Fees: Payment For Stripe bills 1.25% on every eligible mobile transaction on top of Stripe's fees.
Accepted payment methods: Any international or Australian-issued card (chip cards or magstripe cards) featuring a Visa, Mastercard, American Express, and JCB logo, as well as bank-issued debit chip cards.
QuickBooks GoPayment
Much more involved and with higher fees for manual card entries to the app, QuickBooks GoPayment does eliminate some of the admin of tracking your payments.
If you already do your accounting with QuickBooks, you can link the app and it will auto upload the information to your books.
For smaller blue-collar businesses and contractors this is not the ideal choice as the subscription costs for QuickBooks are quite high.
For high-turnover businesses already paying a QuickBooks premium and not concerned with higher processing rates, it may be workable.
Cost: QuickBooks GoPayment is free to download from Google Play or the Apple Store.
However, you will need to have paid for the annual Quickbooks membership which starts at $25 a month for one user up to $849 a year for the Pro tier.
Fees: 3.4% + 0.25 cents for each manually entered mobile transaction. 2.4% if you use their card reading hardware.
Accepted payment methods: All major credit and debit cards including Visa, Mastercard, and American Express.
Mobile wallets such as Apple Pay, Google Pay, and Samsung Pay are also supported.
FAQs
What is the top home repair business credit card processing app?
Home repair workers can also enjoy the streamlined payment options offered by a credit card processing app.
With Stripe being a leader in this area, it simply makes sense to use partnered app Charge to take these payments.
Quick, easy, and requiring no tech skills, Charge allows home repair contractors to process payments at the door and skip the hassles of chasing invoices.
With easy-to-follow reporting and analysis available, tradesmen can also access key details and insights regarding their customer base, helping you scale up and service your clients better.
Can I accept debit cards as well as credit cards using my mobile app?
Yes, the Charge mobile app is flexible and versatile making it one of the leading point-of-sale solutions available.
With Charge, you can ​​accept most major credit and debit card payments including Visa, MasterCard, American Express, Discover, JCB, and more.
When does the payment come through to my bank account?
Timelines for Payments to your bank account will differ depending on the payment companies in question.
While some take up to two days to release funds, others make them available same-day.
The Charge app acts as an online payment gateway or middleman between you and Stripe, your merchant service provider, and therefore does not influence how quickly you will get paid.
I'm not tech savvy, can I still use a mobile payment app?
Absolutely! No matter your business type or experience with technology, you can enjoy the benefits of mobile payment processing.
Mobile payment apps such as Charge are designed to simplify the steps for accepting payment.
So while Stripe itself may be geared towards the more tech-savvy individual, our integrated app ensures you can still utilize it to its best advantage with zero tech savvy.
Wrapping Up
So in a nutshell, if you've made it this far, accepting mobile payments as a contractor in the construction industry is doable.
By ensuring you opt for an intelligent and accessible mobile payment merchant such as Stripe you can cut down time chasing unpaid invoices and spend more valuable time in the field.
Credit or debit card transactions are approved or declined on the spot. This is particularly helpful for jobs where the customer pays before you begin work!
Convenience is king and when it delivers for you and your customers in equal measure, there is no reason not to sign up for mobile payments.
Bypass hefty terminal fees, ongoing costs, or fiddly equipment linked with other merchants and apps.
All you need is your smartphone and Charge.
For the ultimate mobile payments experience, download the Charge App today, the Stripe integrated point-of-sale solution that's processed over $100m of payments and has over 100,000 downloads.