6 Top Mobile Card Machines For Taking Payments On A Mobile Device (Quick, Easy, Affordable Solutions)
If you're a small business owner with either a permanent physical shop, a pop-up shop or you run a local market stall, taking payment by card is as essential as having a bank account.
But it's confusing because of the many options, from mobile phone credit card machines to smartphone apps to full-blown POS systems.
Gone are the days when cash was king and people were nervous about making transactions using a credit or debit card.
And gone are the cash-only days where the tax man didn't know about your cash takings (ssshhh).
Going legit means you can now run your business easier with a credit card machine for your phone (or even an App).
More on both in a minute.
Did you know that recent surveys have shown less than 50% of adults now keep cash on their person?
The convenience of using a credit or debit card has surpassed the preference for cash payments, and the Covid pandemic certainly accelerated the uptake.
This means that as a business owner if you're unprepared to accept debit or credit card payments in place of cash, you stand to lose out on valuable sales.
But how can you accept card payments as a small business without having a complex setup and expensive monthly fees?
Answer: Use a personal credit card machine with your smartphone.
If you've never investigated mobile phone card readers, believing them to be too expensive or complicated, think again.
Just as we continually benefit from other helpful advancements in technology, the ability to accept card payments anywhere and anytime is easier than ever.
In this article, we'll answer the key questions business owners have about mobile payment readers:
The differences between a card reader, credit card machine, swiper and chip reader.
Types of credit card readers, so you choose the right one
How card readers compare to POS systems and Apps.
Payment security
Our pick of the 6 best smartphone credit card readers
A hardware-free alternative to card readers
We're confident that by the end of this article you'll know everything you need to know about mobile electronic card readers so you can make an informed decision.
So let's dive in and compare credit card readers, starting with defining the different terminology used to describe them…
Credit Card Reader Vs Credit Card Machine Vs Credit Card Swiper Vs Card Chip Readers – What's The Difference Between Each?
The simple explanation is that these 4 devices are essentially one and the same thing.
A credit card mobile payment machine is a card reader that features a pin pad and usually a swipe reader and chip reader to process transactions.
These merchant card readers can vary in appearance depending on the bank or merchant they are tied to.
Each will feature their merchant's logo and may have slightly different software or features.
But as credit card terminals, they capture customer card information and process payments.
These machines are often used as part of a larger integrated POS (Point Of Sale) system that also incorporates a monitor or credit card swiper for tablet, cash register and printer.
But it doesn't need to be so complex.
It's usually only a permanent physical store that has a more complex setup like this as they process transactions in high volumes.
The best credit card swipe machines often link to software that tracks inventory, applies discounts, generates reports and monitors sales.
While an integrated POS system can certainly have its benefits, it can also come with drawbacks such as lacking in portability and representing a larger financial investment and higher ongoing fees.
Even portable credit card readers require charging at some stage which can take much longer than a phone.
Are there any other alternatives worth considering that are simpler and cheaper to run?
Yes, there are two…
A simple handheld credit card reader attached to a smartphone.
Or, a mobile credit card payment app which performs exactly the same function without needing the physical card reader attached to your smartphone. And fees are often much lower too.
Before we get into reviewing the 6 card readers, here's a brief intro to a popular payment app…
Charge – An Innovative Alternative
Recognising the need for affordable solutions that allow businesses to accept card payments anytime, anywhere, the team at Charge developed an app that delivers exactly that.
With nothing more than your smartphone and the Charge App, you can offer your customers a safe, secure way to pay by card.
This simple approach makes Charge among the best credit card readers for iPhone and Android devices.
With Charge, there's no need for a physical device (fixed or portable card swiper) at all.
By eliminating the need for a physical smartphone credit card reader attached to your phone, Charge makes accepting credit and debit card payments with your smartphone easy.
We'll delve further into this option later in the article, but for now, let's discuss the various types of card readers and review some popular brands…
Types Of Credit Card Readers
Mobile credit card terminals capture customer payment information in a few different ways.
Able to process both credit cards and debit cards, mobile phone credit card readers collect your customer's payment information and initiate the transfer of funds by one of three methods.
Type #1: Magstripe
One of the earliest and most recognisable features on credit and debit cards, the Magstripe or 'magnetic stripe' contains embedded cardholder information.
When used in a mobile phone card reader, the magnetic stripe uses a secure reading head within the machine to access the card details and allow for a transaction to take place.
In most magnetic card readers there is a narrow channel on the side of the payment terminal where you simply slide the card from top to bottom.
Magstripe cards are being gradually phased out as more secure card readers, including those that accept EMV chip cards and contactless payments, are used.
Type #2: EMV Chip
Developed and overseen through the cooperation of several major credit card companies, namely Europay, Mastercard, and VISA (hence its namesake) chip-and-pin card readers were first seen in the USA around 2011.
Portable chip-and-pin machines are now seen across the globe in the USA, Canada, Australia, New Zealand, the UK, South Africa, Asia and Europe.
Creating a unique code for every transaction that is impossible to clone and cannot be reused, EMV chip-enabled cards are inserted or dipped into a slot on debit and credit card readers rather than being swiped.
EMV card readers can be set up to be used as chip-and-signature or in a mobile chip-and-pin machine for added security.
Type #3: Contactless
Arguably the best mobile credit card machine option, contactless payments are still emerging in popularity in some nations with many still adopting this technology.
To use contactless payments, your debit or credit card must have an RFID or Radio Frequency Identification Technology chip in place.
Mobile contactless card readers use RFID or its counterpart NFC – Near Field Communication to then collect the data your card is transmitting when waved or tapped on/near the card reader or phone.
Most wireless card readers and POS card readers now feature this technology, and you've no doubt used this in your day to day life.
The advances in payment technology happen so fast which is why it's best to use a payment processing method that is as simple and cost-effective as possible as there will likely be a new way to do the same thing in the next 5 years.
The contactless option eliminates the need for a credit card swiper but may still require a wireless reader (or you can just use an App which we'll discuss in more detail shortly).
These often wireless credit card readers are also able to facilitate payments made using digital wallets such as Apple Pay, Google Pay or Amazon Pay.
Despite the card information being processed by a third party, they still represent a secure way for customers to pay.
How To Choose Between Mobile Credit Card Readers (The Most Important Features To Look For)
With the demand for processing credit cards on a mobile device increasing by the day, competition is stiff among providers.
And each offers their own unique set of features to set themselves apart from the competition, which is why it's important to know all of the features available so you can decide which one will work best for you.
Credit card readers for businesses large and small should offer:
Feature #1: Ease of navigation
If you cannot make heads or tails of the card reader and its associated app, you'll just end up frustrated.
One of the considerations in researching mobile credit card readers should be how much they simplify the process of taking payments.
The best credit card readers for iPhone and Android are those that are simple and make it easy to process a transaction.
A clean, uncluttered home screen that is easy to navigate is essential.
Feature #2: The need for speed
We all hate those awkward moments waiting for payment card readers to approve a transaction.
Obviously the strength of your WIFI or mobile signal will be a factor, but a poorly programmed reader and app combination is a factor too.
Skip the uncomfortable wait times by choosing a CC reader for Android or iPhone that is quick to process and finalize transactions quickly.
This will often tie back to choosing a card reader and app that is easy to navigate. The more complicated or involved the reader and app, the slower they usually are.
The best credit card scanner is one that allows for quicker processing, so be sure to read product reviews.
Feature #3: Flexibility
Cell phone credit card readers should be able to work seamlessly on both iOS (Apple) and Android operating systems.
This ensures you can use it on any mobile device and for multiple team members no matter the type of smartphone they use.
While there may be differences in appearance between operating systems, the card reader and its app should work seamlessly on either.
Feature #4: Security
This one is perhaps the most obvious.
Watertight security is critical for a portable card terminal and its associated app as the app will be handling sensitive information linked with the user's credit or debit card.
You should only use an app that is consistently updated with the latest security measures.
Hackers work overtime to attempt to bypass devices and software to steal customer data for identity theft and fraud.
Mobile phone credit card readers and apps are a frequent target of these attacks.
The last thing your business needs is to be linked with one of these breaches due to a poor choice of mobile smartphone credit card readers.
Feature #5: Customer Support
Being able to access help quickly and easily is incredibly valuable.
Without adequate support, you could lose an important sale, and be unable to correct errors or access valuable data.
Ideally, your chosen card reader and app should offer 24/7 support.
We recommend you steer clear of those that limit their hours to weekdays – particularly if you are a small business that tends to make the bulk of your sales on weekends.
This means mobile card machines for small businesses that are supplied by banks are also less than ideal due to their lack of customer care on weekends.
The best credit card reader for small business is one that supports you to thrive.
Feature #6: Accepts Multiple Card Types
A good credit card machine for cell phones shouldn't limit you to only transacting on a couple of card types such as Mastercard or Visa.
Look for a credit card swipe app and reader that allows both credit and debit cards from all major financial institutions as well as mobile wallets.
Additionally, you should check it is both a mobile debit card reader, and not only for credit card transactions.
We suggest ensuring you can accept international payments too!
The Top Mobile Credit Card Readers For iPhone And Android In 2022
The following review of the best credit card readers for smartphones and their linked apps has all the details you need to find the ideal solution for your business.
After the best iPhone credit card readers?
Or perhaps you're an Android fan and need options for Android card readers?
No matter your preference, we've got you covered.
While there are no fee-free mobile credit card processing options currently, this round-up shows just how competitive the rates can be in place of a merchant owned terminal.
We should note here, that these options work for both debit and credit card transactions.
In the following mobile credit card reader comparison you'll discover which ones are most popular and why, with a full outline of their pros and cons, from setup to ongoing fees.
Square
Square is consistently voted one of the best mobile card readers available.
While it offers numerous features, not all of these are included in the free credit card reader for iPhone and Android.
Square is most often used with a card reader linked to your mobile device, though you can also manually enter card details into the app.
Square's hardware is available as a credit card swiper for iPhone or if preferred, they also supply credit card readers for Android operating systems.
Features:
Use the card readers supplied by Square or manually type card details into the app on your phone.
Easy set-up and one of the fastest card readers available.
Emails receipts to you and your customer.
No monthly or annual fees.
Fees are set at 2.6% + 10¢ for contactless payments, mobile card swipe or inserted chip cards, and swiped magstripe cards. Manually keyed-in cards levy a 3.5% + 15¢ fee.
Available on both iOS and Android operating systems.
Accepts all major credit and debit cards
Challenges:
Poor customer support with limited hours.
Add-on features can be costly.
High-risk businesses may not be accepted on the platform.
Fast access to funds. Payments to your account can take 4-5 days.
Is best used in conjunction with Square's credit card reader for smartphones.
Paypal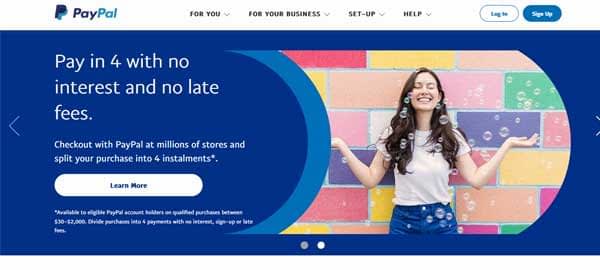 A long-time trusted presence in the world of online and mobile payments, PayPal is most often associated with eCommerce.
With updated features that allow businesses to send and receive payments via the creation of a QR code, PayPal is another contender for the mobile payment space.
Simply present your unique QR code to the customer for scanning, have them enter the amount required and tap send.
While this option does have some great benefits, it is reliant on the customer using a smartphone and having an active PayPal account.
Features:
Customers do not need to handle cash or cards, they simply scan the QR code on their own smart devices.
There is no hardware or special software needed, just download the free app and generate your QR code. Can also be used with a mobile credit card swiper for your phone or tablet
Low fees. The transaction fee is 1.9% + $0.10 USD for payments $10.01 and above, and 2.4% + $0.05 USD for payments $10.00 USD and below.
Sellers are protected from chargebacks, reversals and their linked fees.
Suitable as a mobile debit machine and mobile credit card reader.
Available on both iOS and Android operating systems.
Accepts all major credit and debit cards.
Challenges:
Customers must have a smartphone to use this method.
Relies on the customer already having the PayPal app on their phone to process the payment. Requires users to purchase an added card swipe machine for phone.
The customer support process can be challenging to navigate.
FacilePay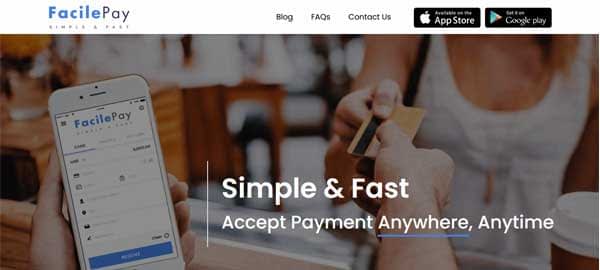 Also powered by Stripe, FacilePay makes it easy to accept credit and debit card payments through your phone.
This app works as an alternative to credit card readers for Android phones and iPhones.
With no physical card reader required, it is uncluttered and easy to navigate. It operates entirely through your phone, via the FacilePay app.
Its simplicity means fewer features in comparison to Charge, so don't expect any helpful data graphs or inside information to help you better understand your business.
While arguably not the leading option when viewed against the best credit card readers out there, it still delivers the basics necessary for a small business.
Features:
Clean, easy-to-follow design makes for easy mobile phone card payments.
There are no sign-up fees or ongoing membership fees, making for a cost-effective choice even when compared with a competing cheap credit card reader.
Create and send invoices from within the app.
Supports multiple currencies and accepts all major cards.
Partnered with trusted merchant account Stripe.
FacilePay bills 1.25% on every eligible mobile transaction on top of Stripe's fees.
Manual entry of card details or ability to scan via your device's camera.
Fast processing in under 30 seconds.
Available on both iOS and Android operating systems.
Challenges:
Currently no live support is available for users.
No collation of payment date for insights into your business.
Less well-known than other mobile credit card payment processing apps.
QuickBooks GoPayment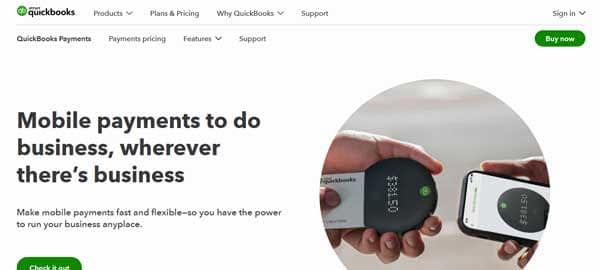 A popular option for those also utilizing Quickbooks accounting software, this integrated app makes it easy to track payments and have them automatically uploaded to your Quickbooks software.
This can help cut down on admin and makes doing your accounts less complicated.
Not the cheapest mobile card reader option, the app itself is free to download on the Apple Store or Google Play, however, you will need to have an existing Quickbooks subscription to utilize it.
The fees for this subscription can be quite high so it is not the best mobile credit card reader for iPhone or Android if you're seeking to lower costs.
Features:
Easy integration with accounting software, auto matches invoices to payments.
Pair with a card reader or directly through your phone app.
Detailed reporting features with charts and graphs.
3.4% + 0.25 cents for each manually entered mobile transaction. 2.4% if you use their mobile card reader for iPhone or Android.
Accepts all major credit and debit cards.
Offers next-day deposits to your nominated bank account.
All-in-one solution that can be helpful for larger businesses.
Available on both iOS and Android operating systems.
Challenges:
Requires existing membership which starts at $25 a month for one user and up to $849 a year for the Pro tier.
Can be complex to learn and take time to feel comfortable navigating.
Slow servers can cause delayed processing of transactions.
High-processing fees.
SumUp
Suited to low-volume sales, SumUp is most similar to Square in its offerings.
With basic analytics, easy-to-send receipts by email or SMS and an easy to navigate 'quick-sale' mode, SumUp is an inexpensive and fuss-free credit card swiper for iPhone and Android.
Unlike its competitors, SumUp is relatively new to the US market and as such at this stage has some differing functionality for US users.
This, paired with limited customer support may lead to teething issues or difficulties, however, the low fees help counteract these downsides.
Features:
Payments can be taken with a card swiper or via the app.
Fees for cell phone credit card processing are 2.75% per in-person card payment. The Virtual Terminal transaction fee is 3.25% + $0.15.
Available on both iOS and Android operating systems, this option is often considered one of the best credit card readers for Android.
No contracts or termination fees.
No monthly minimum to transact.
Inexpensive hardware (if desired).
Use the cell phone card reader or easily set up QR payments.
Allows for remote payments.
Challenges:
Limited customer support.
May decline high-risk merchants.
Limited reporting features when compared with other mobile card payment apps.
Fewer features are available to US clients than those in the UK and Europe.
Shopify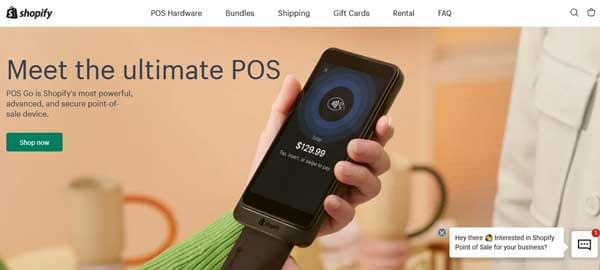 Better known as an online payment platform, Shopify also allows for in person payments via their card reader.
While not considered one of the top card readers in terms of fees, it is a trusted and secure option.
Shopify POS service starts from $29 a month on a basic plan with up to a hefty $229 per month on their top tier plan.
There are no free mobile card swipers available either so you'll need to spend another $49 per card reader initially also.
Fees for payments differ between the subscription tiers, with the more you pay monthly, the lower the in-person transaction fee.
Features:
Account access for up to two users on the basic plan.
Fees for in person transactions on the basic plan are 2.7%, while online transaction rates are from 2.9% + $0.30 per transaction. On the higher tier, in person fees drop to 2.5% per transaction.
Works as a credit card swiper for iPhone and Android.
Accepts all major credit and debit cards.
Is an affordable option for those who want a portable option that also works for in-store transactions.
Comes with Shopify shipping label support if needed.
24/7 customer support is available.
Challenges:
Expensive monthly subscription fees on top of mobile payment processing fees.
Poor reviews for the paired app on both the Google Play and Apple Store.
Pairing the card reader can be fiddly according to online reviews.
What Are Some Downsides To Buying A Card Reader?
While the best mobile card payment machines are relatively compact, they still present a few challenges.
Namely, the need to charge them, the risk of malfunction and issues with connectivity to mobile devices just to name a few.
The best possible solution is to choose a mobile card payment app that operates completely from your smartphone or tablet.
This saves you time, money and the hassle associated with fixed card reader POS systems.
How Do Physical Card Reader Machines Compare To Mobile Phone Card Scanner Apps?
Swiping, dipping or tapping your card on a machine to pay seemed foreign at first.
As such, portable card readers are facing some stiff competition from apps that turn your humble smartphone into a mobile credit card processing device.
Why buy and install physical machines with higher processing fees and monthly fees when it can all be done using just a smartphone and an app?
Fair enough.
There are undoubtedly times when a more complex merchant card reader may still be the better option, such as at a busy shop or supermarket when you need to accept huge volumes of payments simultaneously.
Yet, what we are seeing over time for more dynamic businesses that require flexibility, is that a physical credit card machine reader is overkill.
Point-of-sale card readers can be heavy or bulky, they often require a fixed-term contract and come with high monthly fees.
Even those that purport to be mobile can require lengthy charging and are not always able to access a steady signal for processing transactions.
Attached devices such as credit card readers for iPhone and Android can also face frustrating connectivity issues.
Conversely, smartphone apps require nothing but your phone to use.
There are no monthly fees and the cost of using the app is paid for within the transaction itself as a small percentage.
This allows you to take payments anywhere in the world where you have a phone signal.
Impressive, right?
Charge – The Hardware-Free, Easy To Use App
So what are your alternatives if you'd rather not have to attach a card reader to your smartphone to accept payments?
The Charge App.
The Charge App does away with the need for a fiddly card reader.
Just tap the customer's card against your smartphone or tablet and the payment is processed immediately.
With over $115 million in payments processed since its launch in 2018, Charge is one of the fastest-growing mobile phone credit card processing apps for iPhone and Android devices.
Charge is considered by some as the ideal alternative to even the best mobile card readers for small businesses.
It is perfect for small retail shops, market stalls, in-home service providers, tradespeople/contractors, and mobile service providers such as food trucks and coffee vans.
There's no additional hardware required, just your existing smart-phone and our free app.
The secure Stripe payment gateway is in use by well-known companies including Amazon, Shopify, Google, Target, Unicef and more.
Features:
Powered by trusted merchant Stripe, payment security is assured
One of the cheapest mobile credit card processing options, Charge bills a 1% fee in addition to Stripe's fees.
Ultra-fast, Charge has the best credit card mobile processing that takes less time to finalize than it does to say 'would you like fries with that?
The app allows for tap-and-go payments, manual entry of card details or sending of a payment request.
Hardware free! No need for an added credit card swiper
State-of-the-art security features that not only protect your transactions but monitor them for unusual activity, simultaneously detecting and blocking fraud attempts.
Ability to access easy-to-decipher charts that show how your sales are going.
Process refunds, review payouts, past transactions and more all from within the app.
Works on both Android and iOS operating systems.
Live chat support is available within the app 24/7.
Accepts all major credit cards.
Challenges:
Not currently able to integrate with accounting and invoicing software such as Quickbooks or Xero.
Limited reporting features at this time.
How Secure Are Mobile Payments Using Card Readers Vs Apps?
If part of your hesitancy to take card payments via an app is linked with security concerns, it may surprise you to learn that credit card reader apps are, in fact, more secure than traditional card reading machines.
While card readers were hailed as being cutting edge at the time of their release, they have been quickly overtaken in the decades that followed by fast advances in smartphone and app technology.
Almost unchanged since their introduction, mobile card swipe machines lack durability, have limited battery life and often rely on unstable Bluetooth technology.
This has meant they have struggled to keep up with the necessary security to protect customers.
As yet, even some of the most highly invested industry leaders have been unable to develop a mobile credit card processing machine that can match the security features offered by a secure app on a smartphone.
Mobile phones benefit from constant upgrades and updates both to their hardware and software and good app developers are always fine-tuning their apps.
This means your payments taken by an app such as the Charge App on your iPhone or Android phone can be done safely and securely for you and your customers.
What's The Best Mobile Card Processing Method?
For most business owners, flexibility and reliability are leading factors in their choice of how they accept payments.
The easier they can accept payments the better, for both themselves and the customer.
So with this in mind, and given the different environments in which payments are often taken, which are the best mobile credit card readers?
The answer may yet surprise you.
If you have a physical store, the best solution is…
Either a fixed credit card reader or a mobile payment app such as Charge..
For store owners with lots of customers and a high volume of sales, mobile POS card readers are often the preferred option as they can be integrated into their larger POS system.
However, the expense of setting up these point-of-sale credit card readers and their ongoing fees can make this a less appealing option for some businesses.
For mobile payments, the Charge app is a great alternative as it works anywhere, anytime and is more than capable of transacting large volumes if needed.
You also do not need to arrange for a new credit card reader or to be delivered so you can begin taking payments sooner.
If you visit customers at their homes or on-site, the best solution is…
The Charge App, hands down, is one of the best mobile credit card processing apps
With no additional hardware or complex software to navigate, the Charge app makes it easy to accept payments from customers quickly and securely.
Skip invoicing or chasing payments, all you need is your phone and the Charge app to take payments on the spot.
If you have a temporary setup, pop-up stall, etc, the best solution is…
The Charge App is also the winner in this situation.
Businesses that frequent markets and festivals, install pop-up shops or operate food trucks need a system that moves with them with ease.
Mobile credit card processing machines from banks simply cannot compete with an app in these instances.
With Charge, you never risk malfunctioning payment hardware or issues with connectivity as it doesn't use an added card swipe device.
So long as your phone is operating, you can accept payments anywhere, anytime.
The low fees associated with Charge make it one of the best credit card readers small business owners could choose.
With Charge, more money stays in your pocket where it belongs!
FAQs
Is it worth getting a credit card reader?
The answer to this will depend on the type of business in question and the preference of the business owner.
Mobile credit card machines are easily integrated into more complex POS systems which can make managing business easier.
If you desire a system that tracks all your stock, auto-updates your inventory, prepares accounting reports and more, a fixed card reading terminal may be better suited to your needs.
Having said that, you can also supplement this with Charge's mobile app for times when you need more flexibility or wish to accept off-site payments.
If all your business is conducted on the move, such as in the case of a tradesperson/contractor, there is little to no benefit in pursuing a card reader as an app is more suitable.
All you need is Charge, the ideal payment processing app.
What are some advantages of using a credit card reader?
When used as part of a larger POS system, they can offer additional functionality and benefits to the user that a payment app cannot.
When we compare card readers, benefits include:
Integration with systems that monitor stock levels
Accounting software automation
Detailed reporting systems
Potential for faster payment processing.
Having a separate payment processing app on your phone or tablet can be a great backup during system outages.
How much does it cost to have a credit card reader?
Perhaps the biggest downside to using credit/debit card readers for your business, aside from their lack of portability, is the fees involved.
Merchant processing fees can be significant.
Card readers can cost as little as $45, though a cheap credit card reader will have far fewer features than a more expensive one.
The best mobile card machine could be as much as $1000 to purchase.
In addition to the mobile card reader price, you will then also need to pay for transaction fees and other flat fees levied by the merchant which can be between 2% – 3.5% per transaction.
Did we mention fees?
Let's not forget batch fees for simply batching your earnings, software fees, annual fees and termination fees.
When you compare card readers fees against mobile apps, it is easy to see why card readers are less favorable.
Take Charge With The Charge App
If the ability to accept payments with ease without expensive equipment or associated fees is important to your business, you need the Charge App.
Easy to navigate and requiring no technical skill, Charge makes it easier than ever to take mobile card payments.
Our goal at Charge is to simplify the process of accepting payments, no matter where you are.
Our tech support is available 24/7 and with zero fiddly hardware to set up, you can be ready to accept your first payment in no time at all.
The best mobile card processing for small businesses should include a range of helpful features so that you've got everything you need, including support.
So long as you have an Apple or Android device, Charge can support you to grow your business if desired and ensures you never miss a payment.
If you're ready to experience the Charge difference, download the Charge App today.
Turn your phone into your preferred payment partner in just a few clicks. We promise you'll never look back!