If you're a small business owner looking for an easy and affordable way to take credit card payments from customers easily, this article is for you.
We outline the best small business mobile payment apps along with features, fees, pros and cons.
This article is for:
Small business owners seeking a simple, affordable way to take credit card payments from customers (both face-to-face or remotely)
Self-employed single-person operators like freelancers
Contractors/Tradespeople working in customer homes
Salespeople (selling door to door)
Market stall holders
Credit Card Payment Options For Small Businesses
There's no escaping the fact that these days, credit or debit cards are the preferred payment method for most consumers.
Here are your 3 options for taking payments in your SME (Small to Medium Enterprise)…
Cashless Payment Systems For Small Businesses
1. EFTPOS Machine
This option can work well for businesses with a fixed location, such as a retail store. However, this provides little flexibility and can be quite expensive to set up and run.
2. Card Reader/Swiper
Contactless card machines or card-swiping devices are used in conjunction with a mobile device.
They can be attached to the phone or used wirelessly and the devices need to be frequently charged.
3. Mobile Payment App
Simply download a small business payment app like Charge and your tablet or phone becomes a tool through which you can easily take payments (and you can use Terminal Mode to allow your employees to process payments, but not have access to any Admin data or settings).
No extra hardware and no expensive outlay means you have flexibility, affordability and ease of use.
Top Small Business Payment Apps Compared
With the above in mind, it's easy to see why mobile apps are becoming the preferred payment method for small businesses.
While there is no guaranteed 'one-size-fits-all' solution, making sure you compare the available options is the best way to find one that will work for you.
Below is our detailed comparison of the leading options so you can make an informed decision on which app offers the best payment processing for SMEs.
Apple Vs Android
As briefly touched on above, it is important to note the operating system of your device before settling on one app.
We recommend opting for a payment platform that has been developed for both Apple and Android devices.
Why?
Quite simply, flexibility.
Even if you use iOS and are wholly dedicated to Apple devices, this could change and there is no real benefit to locking yourself into one operating system.
Having a payment method installed that works with both Apple and Android devices means you can just as easily incorporate a Samsung tablet alongside your iPhone if needed.
As your business grows and you have to scale your operations, having a payment app for small enterprises that supports both systems will make things much easier to manage.
A Word On Apple Pay & Google Pay
Neither Apple Pay nor Google Pay are payment processing intermediaries.
Instead, both of these are contactless payment options that can be enabled on NFC-capable devices or those with payment apps that offer this functionality.
These devices must already accept debit and credit card payments via a facilitator or processor to accept Apple Pay or Google Pay.
Apple Pay is exclusive to Apple whereas Google Pay can be used by both Apple and Android users.
There are no fees for accepting payments via Apple Pay or Google Pay, however, your merchant and card processor will charge you for each transaction as normal.
Mobile App Options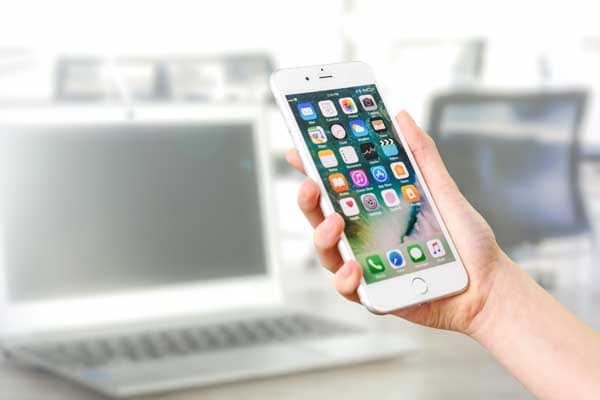 An offshoot of Paypal, PayPal Business is specifically designed to manage customer transactions for sole proprietors running a business.
It can be utilized both domestically and internationally making it easy to accept remote payments from anywhere in the world.
Price: The PayPal Business app is free to download
Transaction Fee: 2.60% + a fixed fee for domestic transactions and 3.60% + a fixed fee for international transactions. Fixed fee information is available to view here and varies based on the currency in question.
Setup Fee: Nil
Terminal/Device: Any smartphone or tablet that offers a web browser service
Pros:
Operates via a virtual terminal in your web browser, allowing for in-person or over-the-phone payments
No additional or special hardware is required for use
Easy set-up and user-friendly operation
Can be integrated into your online store
Secure and offers buyer protection
Available for both iPhone and Android users
Accepts all major credit and debit cards
Cons:
Not a 'tap-n-go' solution, requires the buyer to read out card details for input into the virtual terminal or to scan a QR code and send the payment themselves.
Not set up to accept Google Pay or Apple Pay for small business unless complex online shop integrations are sorted out
Higher processing fees than other merchants
Can take up to 2 business days to receive funds in your account
Zettle Go (formerly iZettle), is another offering from PayPal that offers easy point-of-sale payments.
One of the lesser-known payment solutions for sole traders currently, it primarily relies on using Zettle hardware to take payments.
Choose from one of their mobile card readers for small businesses or a full set-up including a till, Zettle allows for easy scaling of your operations.
Price: No monthly fees or lock-in contracts
Transaction Fee: 2.5% on payment links or invoices, 1.75% via card reader or the all-in-one POS reader device.
Setup Fee: PayPal Zettle POS app is free to download
Terminal/Device: Hardware to be purchased from Zettle, some payment features are possible via the app, but a card reader is necessary as a minimum.
Pros:
Can also accept payment via a QR code or a one-time generated payment link
Backed by PayPal, a trusted name in payment processing
Good for those hoping to also run a full-scale POS system and integrate online payments
Instantly generates email receipts
Offers sales tracking and reporting date
Cons:
Users report regular connectivity issues, slow processing times, and delayed reporting
Best used with Zettle hardware, which can be cumbersome and difficult to use
Poor customer service and frequent hardware issues reported online
Only allows manual payments for accounts linked to PayPal
Requires paid upgrades to access more features
Easily one of the most well-known ways to take card payments for micro businesses, Square offers a host of features, though not all are available on their free app.
Able to be used alongside a contactless card-reading device, merchants can also manually enter card details into the app if preferred.
Price: Square's POS payment apps are free to download.
Transaction Fee: Fees are set at 2.6% + 10¢ for contactless payments, mobile card swipe or inserted chip cards, and swiped magstripe cards. Manually keyed-in cards levy a 3.5% + 15¢ fee.
Setup Fee: Nil monthly or annual fees.
Terminal/Device: Can work with only your phone via manual card entry or with Square hardware, basic reader hardware starts from $65.
Pros:
Super simple set-up and very user-friendly to operate
Able to instantly email receipts to you and your customer
Available for both iOS and Android operating systems
Accepts all major credit and debit cards
Works with Apple Pay and Google Pay
Can work alongside a bigger POS payment system, small businesses with fixed locations may find this helpful
Cons:
Works best with additional hardware, meaning additional cost at set-up
Limited customer service hours and poorly rated customer support
Taking money is easy, but it may be 4-5 days before you can access these funds in your account
If you're after an option that takes debit and credit card payments for SMEs with low-volume sales, SumUp is worth a look.
A relative newcomer in the US, SumUp offers quick payment processing, rapid receipts to email or text, and some basic analytics.
Used alongside a paired card reader or solely within the app, it is fuss-free and inexpensive.
Price: The SumUp app is free to download.
Transaction Fee: Fees for cell phone credit card processing are 2.75% per in-person card payment. The Virtual Terminal transaction fee is 3.25% + $0.15.
Setup Fee: There are no set-up fees or ongoing monthly fees for use.
Terminal/Device: You can accept payments via QR code, manual entry of card details into the app on your smart device, or by using their hardware.
Pros:
Payment can be via the app, QR code, or card reader
Allows for remote payments and any ongoing monthly billing
Low-fees
Inexpensive hardware makes it one of the best card machines for small business
No minimum monthly transaction targets
Cons:
Limited customer support
Fewer features for the US market than those in the UK or Europe
Not suited to high-volume or high-risk merchants
Minimal reporting features
As far as mobile apps for small business owners go, this one is backed by some serious expertise and is exceedingly well-ranked for customer service.
Currently only available to UK customers, Takepayments customizes its payment processing services based on your requirements for a flexible payment structure.
Price: The app is free to download.
Transaction Fee: Takepayments connects you with different merchant services tailored to your unique needs, this means fees vary and will be outlined in your quote.
Setup Fee: There are no setup fees
Terminal/Device: You can process payments in the app, via QR code, or their hardware.
Pros:
Supports Google Pay and Apple Pay
Tailored mobile payment options for sole traders that match you with the right merchant for your needs
Accepts all major credit and debit cards
Can be scaled to grow with your business
Outstanding customer care
Great features including inventory tracking, employee sales tracking, and more
Cons:
Currently only available to UK-based sellers
Requires you to request a quote to obtain pricing information
No invoicing tools currently
Requires monthly, ongoing fees to use
Early termination fees apply
Based in Europe, Adyen is an all-in-one payment solution that allows you to make and accept payments from anywhere in the world.
One of the best card payment systems for small businesses with a global customer base, you can transact in several currencies and accept a wide variety of payment methods.
Price: The app is free to download
Transaction Fee: Each transaction attracts a fixed processing fee plus a payment method fee, which can vary. The fixed fee is €0.11 + 3.95% for American Express or Diners and 2% for Visa and Master. Adyen accepts a huge variety of payment methods globally, fees for all can be viewed here.
Setup Fee: There are no monthly, set-up, integration, or closure fees.
Terminal/Device:
Pros:
Allows you to accept just about every payment method globally. Ideal for those seeking a way to accept different payment methods for businesses that also sell products overseas.
You can link multiple bank accounts for easy movement of funds
Facilitates multi-currency transactions which can be processed locally or overseas for the best authorization rates and reduced fees
Integrates well with Adobe Commerce, WooCommerce, and other Ecommerce products
Accepts digital payment wallets
Cons:
Depending on your industry or business model, minimum invoice amounts must be transacted each month making it unsuited for smaller operations
Not the most user-friendly payment gateway for small businesses focused on local customers
Complex pricing structure
Powered by Stripe, FacilePay isn't marked as one of the best payment apps for SMEs, however, it delivers all the basics needed to accept card payments.
Low on features, this app offers a simplicity that makes it user-friendly and easy to set up.
Operated via your smartphone and available for both iOS and Android operating systems, it is well suited for those not bothered by added extras such as sales data or graphs.
Price: The FacilePay app is free to download
Transaction Fee: FacilePay bills 1.25% on every eligible mobile transaction on top of Stripe's fees (Stripe fees outlined above)
Setup Fee: There are no sign-up fees or membership fees to use FacilePay
Terminal/Device: Works via your smartphone or tablet
Pros:
Backed by trusted merchant account Stripe
Super fast processing in under 30 seconds
Supports all major credit and debit cards
Allows you to create and send invoices within the app
Can be used for both recurring payments and ad hoc payments
Requires no additional hardware, meaning no expensive mobile card machines for small enterprises. You just need your phone.
Cons:
Requires manual card entry or scanning of the card via your device camera to make payment. No option for contactless payment.
No live support available for users
Cannot provide insights into sales history or trends, which makes it harder to track sales
Designed to seamlessly work alongside Quickbooks accounting software, this is the best payment app for proprietors seeking to simplify their Quickbooks accounting process.
If you're looking for all-in-one payment apps that make it easier to manage invoicing, sales tracking, and more, this app is ideal.
However, while admin may be easier with this option, it does have higher costs associated as it is a subscription service, so not ideal for those on a budget.
Price: The app is free to download but only works alongside a paid Quickbooks subscription
Transaction Fee: 3.4% + 0.25 cents for each manually entered mobile transaction. 2.4% if you use their mobile card reader for iPhone or Android
Setup Fee: Requires an existing membership which starts at $25 a month for one user and up to $849 a year for the Pro tier.
Terminal/Device:
Pros:
You can get paid quickly with next-day deposits to your nominated bank account
Offers detailed reporting with easy-to-understand charts and graphs
Accepts all major credit and debit cards
Can be used with a card reader or via the app, whichever is preferred
When integrated with accounting software, it auto-matches invoices to payments
Cons:
It is one of the most expensive payment apps for business owners as it relies on an ongoing subscription to Quickbooks to operate
It is not user-friendly and is considered to be quite complex to learn and navigate
Higher processing fees compared with other options
Users report delayed processing of transactions due to slow servers
Most often associated with Ecommerce, Shopify also offers a mobile payment solution via added hardware.
While not as well known or as inexpensive as other payment apps for small businesses, Shopify is recognized for its great reliability and security.
Price: The app is free to download, however, only works alongside a paid plan. Shopify POS service starts from $29 a month on a basic plan up to $229 per month on their top tier plan.
Transaction Fee: Fees vary based on your chosen plan, for example, in-person transactions on the basic plan are 2.7%, while online transaction rates are from 2.9% + $0.30 per transaction. By comparison, on the higher tier, in-person fees drop to 2.5% per transaction.
Setup Fee: On top of your chosen plan, you will also need to invest in a credit card reader
Terminal/Device: Requires Shopify's card reader, starting at $49
Pros:
Accepts all major credit and debit cards
Suited for both Apple and Android users
Can work out cheaper for those also seeking a mobile POS system that can be used for in-store transactions and online payments
There is reliable 24/7 customer support available
Makes invoicing and receipt generation easy
Cons:
High monthly fees in addition to payment processing fees
User feedback in both the Google Play and Apple App Store is unfavorable
Pairing the card reader with your mobile device is challenging with frequent dropouts reported
Mobile Payment Apps: The Top 10 Features To Look For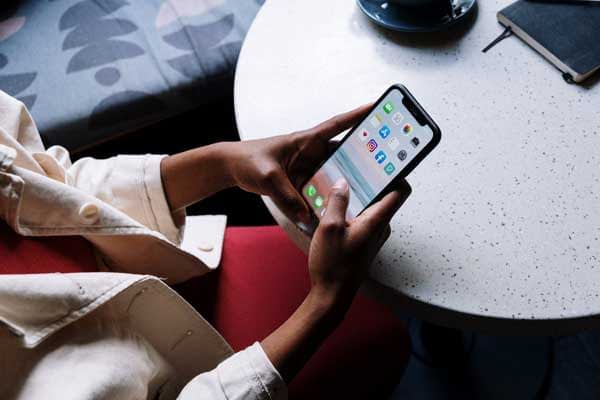 With so many apps available in the market, how do you know which one is right for your needs?
There are several things you should factor into your decision.
To help you narrow down your options, you should ensure they deliver the following functionalities and features as a minimum.
No Monthly Fees
As a burgeoning business, you want to retain and boost your profits as much as possible. Avoiding unnecessary fees is one way you can help achieve this.
This is why the best payment solutions for small businesses are those that levy no ongoing fees or costly joining fees.
Minimal Or Low Transaction Fees
Just as with the above, too many added fees or high transaction fees can quickly become a problem. Not only for you but for your customers!
Look for card payment solutions for little businesses that don't levy excessive fees or multiple fees for each transaction.
Easy Setup And Operation
User-friendliness should be right up there with essential features. If your chosen payment software as a sole trader is too complex to set up or is too fiddly to use, it will be a hindrance rather than a help.
Exceptional Security
Mobile payment apps need to offer outstanding security. Customers are trusting you to care for their data and keep it safe from hackers.
Your chosen payment processor needs to prioritize security, encrypt data and take active steps to stop fraudulent activity from occurring. You should expect the same security in your app that you would get from a fixed payment terminal for micro business.
Flexible Payment Options
The best payment options for businesses are those that offer flexibility around when and how payments are processed.
They should make it possible for you to process transactions in person, or remotely, set up recurring payments, and accept online payments so you never miss a sale.
Developed For iOS And Android
As mentioned previously, opting for a solution that works on both Android and iOS is highly recommended.
No matter what happens with your business and your preferred smart devices, you won't be stuck having to find a new app for payment processing for businesses or learn a new system.
Suited To Both Tablets And Smartphones
Just as the above highlights, flexibility is important when it comes to choosing card payment solutions for small businesses.
Your app should work just as easily on a tablet as on a smartphone. This makes it easier to scale your business and accept payments across multiple devices.
Instant Receipts
While many customers won't worry about a receipt, some prefer to get one or need it for their records. Ensuring your app can quickly generate and send receipts by text or email is vital.
This makes mobile payments for micro businesses appear more professional while also cutting out the need for wasteful paper receipts.
Sales Tracking Data
Even if you're just starting out and don't have a lot of sales to track, this feature can be useful as your business grows.
This is one of the best payment tools for small businesses as it can provide insights into sales volume, types of sales, and other trends. This data can then inform your future strategies and goal setting.
Integration With Stripe
Most apps that allow mobile payment for small enterprises use a third-party merchant for the actual handling of the transaction. One of the most popular merchants/payment processors is Stripe.
Selecting a payment gateway app that integrates with Stripe for payment processing is preferred as Stripe is a trusted merchant with great security.
Stripe does not align itself with partners without careful review. This means any apps that are Stripe Verified Partners are considered trustworthy and reliable.
Who Is Stripe?
A trusted payment processor, Stripe is the preferred merchant behind several mobile payment apps.
Stripe is focused on delivering flexible payment options without excessive fees and with great customer support.
These attributes, and its ability to be used in conjunction with leading payment apps such as Charge, have seen it become one of the best mobile payment options for mom-and-pop businesses.
Price: Stripe's App is free to download.
Transaction Fee: 2.9% plus $0.30 per successful charge (processed via partnered apps)
Setup Fee: There are no setup fees, monthly fees, or annual fees.
Terminal/Device: Can only be used by downloading a partnered payment app such as Charge to your smart device
Pros:
Cost-effective option with no signup fees or monthly fees
Accepts all major credit and debit cards
Works with Apple Pay and Google Pay
Offers chargeback protection which is especially helpful for small business owners
24/7 support is available via online chat or phone
Able to integrate with several third-party apps
Cons:
As Stripe offers several valuable features, you may need more time to familiarise yourself with it initially, but this is helpful in the long run
Receiving initial payments can be slow for some users
Cannot accept offline payments currently
Requires a third party app or their hardware to use, not a mobile phone or tablet solution on its own
The Role Of Customer Reviews
Last but not least, referring to customer reviews before making a selection is also highly recommended.
This will provide you with first-hand information on how successfully each of these business pay apps operate when in use.
Why Is Charge The Smart Payment Processing App For Small Businesses?
If you feel a little overwhelmed or confused by the available options listed above, you're not alone!
Choosing the right payment platforms for small enterprises is so important. It allows you to grow as a business and better enhance the customer experience.
Thankfully, there is one more option we haven't yet introduced that is increasingly preferred by business owners for its simplicity, cost-effectiveness, and reliability.
This is the Charge app for iOS and Android.
With the Charge app, you need never worry about using a fiddly or unreliable card reader – all you need is your smartphone or tablet.
Charge is one of the fastest-growing mobile phone credit card processing apps and is backed by some impressive statistics.
Since its launch in 2018 over $135 million in payments have been processed (and counting), the has been downloaded over 100,000 times and its rated at 4.4 stars from 823 reviews.
Price: The app is free to download
Transaction Fee: 1% in addition to Stripe's fees (outlined above)
Setup Fee: There are no setup fees or ongoing monthly fees and zero lock-in contracts
Terminal/Device: All you need is your smartphone or tablet
Additional features include:
Being powered by Stripe, payment security, and data encryption are ensured
Lower fees than many of its competitors with zero compromises on app quality and features
Ultra-fast processing
Allows for tap-and-go payments, manual card entry or the sending of payment requests
Charges state-of-the-art security measures actively monitor for unusual activity aiding in fraud prevention
Sales insights and tracking
The ability to process refunds, review past transactions and see all recent payouts within the app
24/7 live chat support within the app
Accepts all major credit and debit cards
Small Business Owners Worldwide Use Charge
Join a worldwide community of business owners that have embraced Charge as one of the best mobile payment solutions for SMEs.
Our diverse community of businesses using the Charge App includes but is not limited to…
Tradespeople/Contractors:
Electricians
Plumbers
Carpenters
Builders
Gardeners
Painters
Self-Employed Workers:
Graphic designers
Web designers
Tutors
Couriers
Photographers
Freelance copywriters
Musicians
Retail Operations:
Bakeries
Catering
Laundromats
Dry Cleaners
Travel agencies
Hairdressers
Beauty salons
Market stalls
Clothing boutiques
Gift shops and more
4 Ways To Take Payments Instantly…
1) Tap and Go – Contactless payments allow you to get paid instantly. Simply tap the card against your smartphone or tablet and you're done!
2) Request Payments – Non-local buyers located anywhere in the world can quickly and easily pay you via this handy feature.
3) Photo – Quickly capture your buyer's card details via your device's camera and from within the secure app for easy, instant payments.
4) Manually – If preferred you can type the card details directly into the Charge App and press go! It's that simple.
Wherever you're operating locally or worldwide, from USA to Canada, UK, Europe, South Africa, Australia or New Zealand, you can use Charge to start taking payments quickly and easily.
How To Get Started With Charge
Is your small business ready to embrace all the positives that this leading fintech solution can offer?
Once you have set up your free Stripe merchant account, simply download the Charge App from the App Store or Google Play.
Then it is just a matter of following the prompts to set up your account.
With no additional hardware needed, you can begin accepting payments as soon as your account set-up is finalized.
Take charge with Charge today and experience a better way to accept and process card payments.
FAQs
What is the cheapest way for a business to take credit cards?
The most cost effective solution for SMEs seeking to offer card payments as an option for customers, is to use a free payment app for business.
These apps are usually free to download and easily accessed via your Apple Apps or Google Play store.
While there will still be transaction fees levied for charges processed, this option is still much more affordable than the alternatives.
For example, if we compare card machines for small businesses that operate as part of a fixed POS system, apps are much less expensive and easier to access.
What payment method is good for small businesses?
There are several available payment services for small enterprises, however, the usage costs and ease of accessibility associated with them can vary significantly.
As a small business owner, you need a quick, simple solution that doesn't cost you or your customers too much in fees.
For this reason, we recommend mobile payment systems for small businesses such as the Charge App.
With Charge, you incur minimal fees and the app is free to download.
All you need is your smartphone or tablet and a free Stripe account to start taking card payments.
How can businesses take credit card payments?
Card payment services for small businesses do not need to be complicated or expensive.
Your business can begin taking credit card payments safely and securely with just your smartphone and a payment processing app such as Charge.
You do not need to sign up for an expensive POS system or use clunky hardware, your phone can become an all-in-one payment terminal that lets you get paid anywhere, anytime.
How do I set up a payment system for my small business?
With Charge, it is as simple as downloading our free app to your tablet or smartphone and linking it with a free Stripe account.
Unlike some payment platforms for businesses, there are no confusing or limiting contracts and no ongoing fees for using the app.
You can begin accepting card payments in no time at all.
Get started taking payments today…